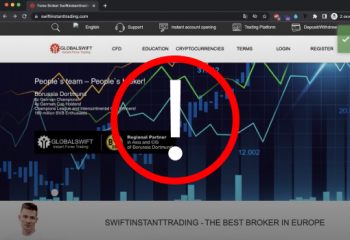 There are numerous kinds of phishing attacks, fake sites, and other types of scams on the Internet. All of them try to get access to your personal data and your wallet. There are scam platforms that are trying to steal from InstaForex users. We value your safety, and all such cases are instantly dealt with by our team of professionals.
However, it is always a good time to remember safety rules. This is why we have prepared some information on online fraud that should not be ignored.
Signs of a phishing website
The design of the fake platforms resembles that of the InstaForex websites. They may even have our company logo, including an icon in the browser's search bar.
The name of a phishing site will also look similar to the real one, but will always have 1-2 different symbols, which aren't always noticeable at first glance.
Phishing emails may be sent from addresses that resemble real InstaForex addresses. To check if an email is genuine, click on its address bar. Fake addresses will have a random series of letters, rather than the official email address of the company.
Some of the links on the phishing site simply don't work, and some of them download malware that steals user data.
The same malicious links can also be embedded in fake email letters or social media posts.
How to be safe
Be sure to follow some simple rules to avoid losing your funds:
Use only our official website at https://instaforex.eu. We recommend adding the site to your browser's bookmarks, so you will not forget it. Please note that depending on your location, you may be redirected to one of our regional subdomains, so that you can get information that is relevant to your region.
To access the Client Area, only follow the links contained in automatic messages sent by InstaForex. Do not click on the links sent via instant messenger apps, as well as links in suspicious SMS messages requesting your personal information.
Before you submit your trading account number or other personal data, make sure you are talking to a company's representative. Please note that InstaForex managers never request passwords or other sensitive information.
Check the login page address: it should start with https.
If you need help in an unclear situation, do not hesitate to contact our support team. You can order a call-back and our representatives will contact you and provide assistance.
Subscribe to our newsletter to stay up-to-date with official InstaForex news.
Other scamming attempts
Financial companies are attacked not only by scammers. There are often dishonest users who see a broker as a way to make easy money. To track down illegal trading activities, our customer service can order additional checks and also require a mandatory verification procedure, a measure to ensure the safety of your accounts. We operate under the laws of the Republic of Cyprus, and we are regulated by the Cyprus Securities and Exchange Commission (License No. 266/15). Our customers' funds are kept safe in a segregated account.
Other things to consider
In accordance with EU regulations, we are obliged to publicly warn our clients of the possible risks of trading certain assets such as CFDs by putting a warning on all promotional materials in large, readable print. You should not be alarmed by these notices.
Today our clients can trade more than 300 financial instruments at the best terms: currency pairs, cryptocurrencies, CFDs, indices, stocks, and futures. We do everything to ensure that trading with us is both convenient and safe.